Would you like to sponsor a challenge at Top 50 and have your store link shown here? If so, please contact admin! :)
Follow us on Facebook
Scrapbooking Top 50 Australia
Promote Your Page Too
Little Cooper started swimming lessons last term and we have decided to keep them going, the tutor that he goes to has a heated pool and he and his father just love it...is a saturday activity they do together...here are some recent pics...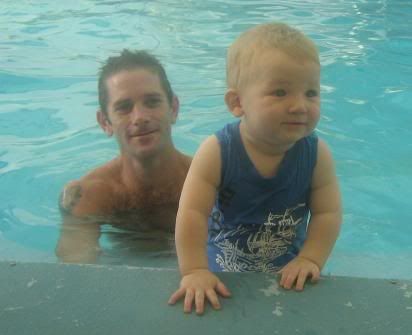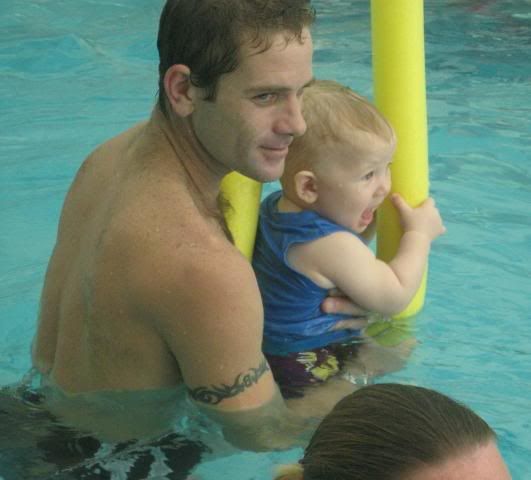 Anyone else have some swimming pics and stories to tell!!! Lets see those darling swim photos
Swimming is such a good thing to get them into at an early age, it suppose to even help with reading and writing later on, something to do with the cross crawl action of swimming. but hey the fun is great too! and he is such a cutie
oohhh so CUTE!!! I would love to take the kids swimming, but haven't had a chance yet.... and obviously wouldn't be outdoor swimming....
we used to live right near the beach, the kids loved it.... when we took them....
I really want them to learn to swim though - it's VERY important!
_________________
Love Charmane
Creative Team Member at Scrap The Boys & Scrap The Girls
Owner of  
Charms Creations
Swimming i think these days is so important...especially with so many back yard pools now...my two older children also went to swimming lessons early on, i think it stems from the fact i can't swim, don't like water at all, so wanted my children to at least have that basic ability to save themselves in the water
Always wanted to live near the beach, we are about 30 minutes from the ocean so guess that's about as close as i'm going to get...just would love to have a beachside home and get to watch the sunrise every morning over the ocean...now that would be picture perfect!
Cooper is so cute Vic!!!
We live only a couple of hundred metres back from the beach and we love it! It's one of the reasons we also want Brielle to learn how to swim at an early age. We are also planning on enrolling her into Nippers at the local surf club as soon as she is old enough, so she can learn surf & beach safety as well.
Although we haven't taken her to any formal lessons yet, we do have a pool here and I was doing water familiarisation activities with her every day when it was warm enough.
Here's my favourite swimming pic...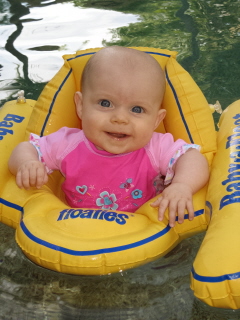 _________________
Cheers, Sue
You can find me blogging
HERE
Ooohhh now that's a cute photo...i can never get Cooper to look into the camera like that
Hard to believe he is 1 day older than Brielle...
This photo was taken back before Christmas. (She was still pretty tiny then, she's bulked up since then.)
_________________
Cheers, Sue
You can find me blogging
HERE
---
Permissions in this forum:
You
cannot
reply to topics in this forum