Would you like to sponsor a challenge at Top 50 and have your store link shown here? If so, please contact admin! :)
Follow us on Facebook
Scrapbooking Top 50 Australia
Promote Your Page Too
Better late than never
Please excuse the dodgy night time pics, I wasn't very well this morning (drug related, not the illegal kind
) so piccies were taken this evening instead... Monsters didn't quite get their finishing touches in time
And these are pre-sealing so don't have their 'shine' quite yet...
I'm happy to combine purchases over my different listings. I will also combine postage of items with Vicki if purchasing from both of our sales Smile Payment via DD - again if purchasing between Vicki and myself we will organise a combined payment to save you issues with that Smile
All designs here are my creations, they are handmade so each one has it's own individual variations making them a one of a kind piece. Please do not copy my work!!!
Photographs are of samples only, I will make your request once order has been placed and paid for - as a result I can vary the colours to suit your requirements!!!
Made from polymer clay these are all original handcrafted designs. Each one of these items are my design, they are hand crafted by me (no moulds ) so every one of them will be unique. There will be slight variations in size etc as a result of them being individually crafted. They come to you oven baked and sealed ready for use. It is your choice if you wish to have them as a stand alone item/button or with a pin or a charm/hanging loop.
There are multiple uses for these items, think outside of scrapbooking, there's jewelry making, ornaments, buttons, book markets.. the list of what you can do with these goes on and on!!!!
As I'm a busy mum to 4.5 kidletts please allow up to a week to have these little cuties made
I have attempted to represent each item accurately in relation to size. The mat some of the items are photographed on is measured in inches - the heavy lined squares = 1 inch square...
All new items pictured here are $2 each due to detailed work and/or increased size from previous creations. As always colours can be altered to suit your requirements
Corsette
Easter Basket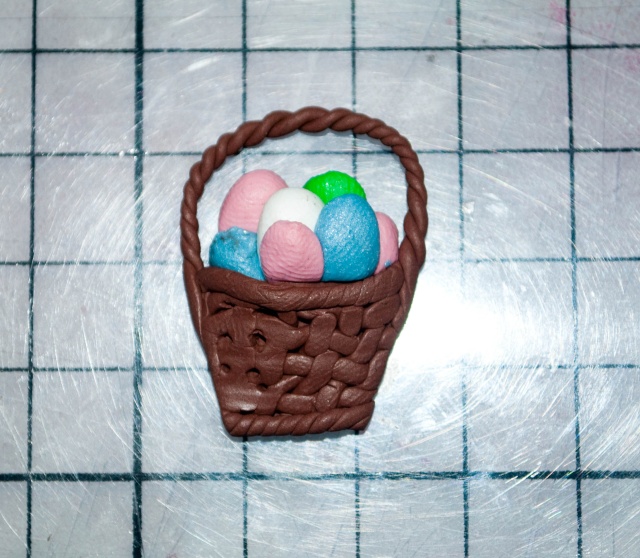 Easter Egg Cluster
Piggie
piggie profile - he's rather thick, but very very cute
Hahaha these are so cool!!
_________________
Cheers, Vicki
Owner of Scrapbooking Top 50 Aus
Blogging at:
Scrapbooking Top 50 Aus
and sometimes blogging at:
Scrappin Vickstar
Find my handmade goodies here:
Burdy's Handmade Embellies!
thanks guys
I might get the monsters up tonight, but can already feel bed calling me - ant it's only just 8 pm **sob** no stamina anymore... Kids truly do take it from ya
LOL
_________________
Mummy to one earth baby  - Madeline Grace- 13/07/2009
and Mummy to one angel baby    - Lachlan James  - 29/12/2011
Come and say hi on my blog xo
www.scrapbookhabit.blogspot.com.au
Also designing at: Show us your stuff
OMG Treens I just have to have some of those! Ooops it's monday

Becci




Posts

: 2674


Join date

: 2010-03-07


Age

: 46


Location

: Port Elliot, SA



It's a long weekend too, the partys not over yet
(well for me at least rofl)
I see a couple of my favourite things there!!!
_________________
Cheers, Sue
You can find me blogging
HERE
Oh yes of course LWE Yay!!!!

Becci




Posts

: 2674


Join date

: 2010-03-07


Age

: 46


Location

: Port Elliot, SA



---
Permissions in this forum:
You
cannot
reply to topics in this forum