Would you like to sponsor a challenge at Top 50 and have your store link shown here? If so, please contact admin! :)
Follow us on Facebook
Scrapbooking Top 50 Australia
Promote Your Page Too

I'm happy to combine purchases over my different listings. I will also combine postage of items with Vicki if purchasing from both of our sales
Payment via DD - again if purchasing between Vicki and myself we will organise a combined payment to save you issues with that
All designs here are my creations, please do not copy!!!
Photographs are of samples only, I will make your request once order has been placed and paid for - as a result I can vary the colours to suit your requirements!!!
Beaded Spiders
$3 each. Two designs to choose from
H) Redback
I) Heart
Beaded Bees
$2.50 each Complete with acetate wings!!!
Butterflies
$2.50 each - Colours of your choice!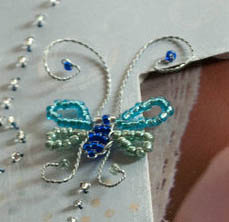 Beaded Heart
$2 each
Beaded Dragonfly coming soon - currently being tweaked
Last edited by Tygrays on Fri Dec 03, 2010 4:33 pm; edited 4 times in total
Oh wow! How clever are you Treens! These must take you a while
_________________
Mummy to one earth baby  - Madeline Grace- 13/07/2009
and Mummy to one angel baby    - Lachlan James  - 29/12/2011
Come and say hi on my blog xo
www.scrapbookhabit.blogspot.com.au
Also designing at: Show us your stuff
LOL just a bit hahaha they're a labour of love **sigh** hahha

retta




Posts

: 1132


Join date

: 2009-10-02


Age

: 43


Location

: Portland, Vic



Thanks Retta
All beaded creations are up now.. I'll try and get the dragonfly completed and uploaded tonight but can't promise it - it's totally dependent on how the brats are tonight (that includes hubby!!! ROFL)
Love them Treens
To me, they are worth more than what your asking.......all of you, your selling cheep
beketn wrote:To me, they are worth more than what your asking.......all of you, your selling cheep
That was our whole idea Beke, we don't want to make a huge profit off everything, just cover costs and share our goodies with our friends!!
_________________
Cheers, Vicki
Owner of Scrapbooking Top 50 Aus
Blogging at:
Scrapbooking Top 50 Aus
and sometimes blogging at:
Scrappin Vickstar
Find my handmade goodies here:
Burdy's Handmade Embellies!
I am sooooo glad you did these Treens, you already know how much I love them!!!
_________________
Cheers, Sue
You can find me blogging
HERE
Lovely Treens

---
Permissions in this forum:
You
cannot
reply to topics in this forum