Would you like to sponsor a challenge at Top 50 and have your store link shown here? If so, please contact admin! :)
Follow us on Facebook
Scrapbooking Top 50 Australia
Promote Your Page Too
12 Weeks to Better Photos - Week Four Challenge: Experimenting with Fill Flash


So here's the question we want to focus on this week:
What can I do to eliminate shadows in outdoor photos?
Last week we told you to stay inside for the challenge. Now this week we'd like you to head outdoors if at all possible and take on one (or all 3) of the following parts of the challenge.
(There are a few choices here based on the type of camera you own and the amount of control you're comfortable having over your camera.)You can use almost any shooting mode (such as AV or portrait) to accomplish parts 1 & 2, as long as the mode allows you to turn on your flash.
1. Use fill flash to "pop" colors on a gray day.
This one should work well with winter! Take a photo of your subject outdoors without the flash. Then manually turn on the flash for your camera so that it fires when you're taking a photo. (It helps to have a colorful subject or setting for this part of the challenge.)
2. Use fill flash to eliminate dark shadows on the face on a bright day.
Take a picture of a human subject outdoors in the sunshine without the flash. Then manually turn on your flash. (Your camera is going to think you're crazy since it knows that it already has enough light on a sunny day, so double check to make sure that your flash is going off before taking the second photo of your subject.)
3. Use fill flash to combat backlighting on a shadowed subject.
This challenge works best if your subject is in a shadow, or not as brightly lit as the background and surroundings.
You will get the best results if you do this option in manual mode.
The best thing to do is to manually turn on your flash on the camera, then meter on the brightest area of the photo you wish to take. Set your exposure meter for the bright area. Then recompose to focus on your subject and press the shutter. Ideally, your flash will fire, giving light to your subject while the camera takes care of the background. Your camera will expose the brighter area of the photo correctly and your flash will fire enough to expose your shadowed subject correctly. Now turn off your flash and take the photo again without the fill flash.
Extra challenge: Experiment with night portrait mode if you have it on your camera.
If you complete this week's challenge, we would love for you to share your pictures with us, so please post them up here in this thread for everyone to see!
Happy snapping!!!
OK- I am obviously the only one doing any of this....I think I must of lost Julie as a partner in crime along the way.....
Went out today to play with the flash....and ended up taking about 250 photos of the kids playing....uploading them now. I was playing with all the settings and having some fun. Will upload later. I did know that you could use fill flash on a bright day to eliminate shadows, but was totally unaware of the fact that it could be useful on a cloudy day....from what I can see... it really does make the colours POP. I hope some of you get to give this a go!
Cool - that makes all the difference. These are great Sue.
Here are mine...but I have to upload in 2 parts....the way I do it wont let me do 2 at a time.
Without fill flash.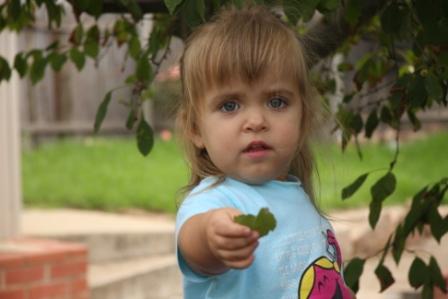 With fill flash....I really like this photo.
They look great Ant!
(I have total "hair envy" here LOL)
So cute ladies!!
_________________
Cheers, Vicki
Owner of Scrapbooking Top 50 Aus
Blogging at:
Scrapbooking Top 50 Aus
and sometimes blogging at:
Scrappin Vickstar
Find my handmade goodies here:
Burdy's Handmade Embellies!
---
Permissions in this forum:
You
cannot
reply to topics in this forum