Would you like to sponsor a challenge at Top 50 and have your store link shown here? If so, please contact admin! :)
Follow us on Facebook
Scrapbooking Top 50 Australia
Promote Your Page Too
Enjoy this magical issue of Inspiration; our final edition for 2010! I also take this opportunity to thank you all for your continued support of Ideal Papercraft and we look forward to working with you in 2011. Our December sale will continue through to 4th January, so there is still plenty of time to make the most of the amazing bargains in store however; sale is strictly limited to stock items - there will be no rainchecks or back orders.
We are taking some time off over the Christmas/New Year season. Last pre-Christmas orders will be despatched Wednesday 22 December. From 28th December to 7th January we will be despatching orders a couple of times per week, and will resume normal order processing again on Monday 10th January.
Gift Certificates are available through the store; these make great Christmas Gifts and we will process orders for Gift Certificates through to Thursday 23rd December, so if you are looking for a last minute gift for someone special, this may just be the answer for you.
New products in store: Enjoy these latest arrivals in store - just in time for your holiday scrapping projects.
English Rose is a beautifully delicate collection fromKaisercraft, along with gorgeous crochet doilies, flourish frames and "After Five" 6x6 paper pads.
EK Success Cutterpedes are back in stock, along with spare blades. Also a re-stock of the Tweezer Bees and Cutterbee Knives and blades. Re-stocks of the Honey Bee Scissors will arrive early in the new year.
Page Maps 2, by Becky Fleck is in store (another great idea for Christmas)
re-stocks are available for most of the latest Webster's Pages collections; WonderFall, Hollywood Vogue and Waiting for Santa.
Design Team Inspiration with Ngaire: Our final 2010 Inspiration is something quite magical from Ngaire. with a little assistance from Creative Imaginations and Harry Potter!
It's Harry Potter time at my place and stickers are the go. Calling all fans of the book series and/or movies - we have sticker hats, sticker lightning bolts, sticker potion bottles, sticker broomsticks – you name something in the books/movies and Creative Imaginations has the sticker for it. In fact there are stickers for things I don't even remember from the books/movies, but there you go. Obviously I need to go back and check them out again.
I'm not normally a sticker person, but I have to admit to having a lot of fun with the ones from this range. The papers themselves are cool too – including the Hogwarts Express, a Daily Prophet headline, the totally cool die cut Marauders Map (guess which one got universal approval from my boys), a really neat die cut scroll, various school badges and a lovely misty grey scene of Hogwarts – all of which have co-ordinating repeated patterns on the reverse side. There are rubons (oos), die cuts (oos) and a set of chipboard shapes (house crests and Quidditch equipment) – but the rest of the embellishments are stickers: layered, epoxy, alphas and several sets of totally addictive Pottermania stickers.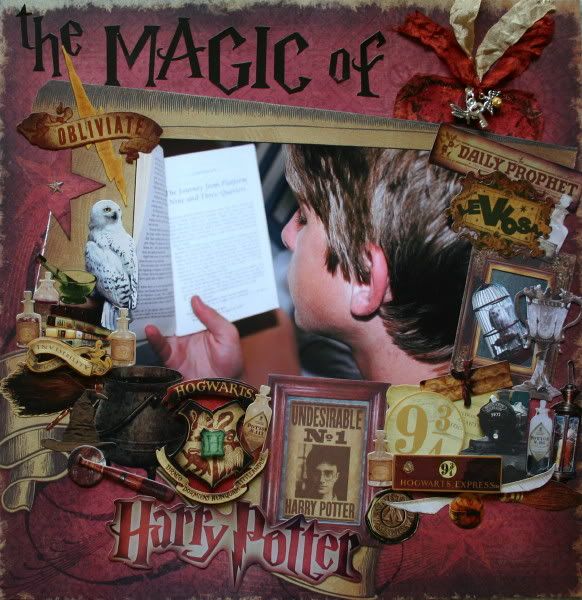 Since I don't normally use them much, I thought I would try and see how many stickers I could put on the one layout and still leave room for a photo. Lol – as you can see, The Magic of Harry Potter manages to use quite a few. I started with a sheet of Harry Potter Banner as my layout base – as it has a fairly empty space in the pattern. Wanting to repeat the creamy brown colour used in that paper, I cut up a part of the die cut Scroll paper and used that to mat my photo, tucking it under a star pattern from the base paper.
Then it was simply a matter of choosing stickers I liked, varying the type and arranging them in groups that framed the photo of DS2 reading the first book in the series (he was preparing himself to see the latest movie by re-reading the entire series). What REALLY makes these stickers work so well is that you can layer them over each other, as well as putting some of the flat ones up on pop-dots to give them dimension.
There are a huge number of picture frames in the die cuts – various shapes and sizes – which I did puzzle over for a bit, until I remembered that pictures in the Harry universe are pretty special – which by extension obviously must mean the frames are too. But don't be daunted by this – there are lots of things you can do with these frames to add interest to your layout. Here I have taken one of the die cuts (a wanted poster for Harry) and cut it down to size before matting it with some patterned paper and then popping it under one of the frames.
More stickers – did I tell you there are a lot to choose from in this range? – and another use for one of the die cut frames. This time I have matted the frame with some left-over patterned paper and then simply popped the Hedwig die cut into it on an angle to fill in the frame space.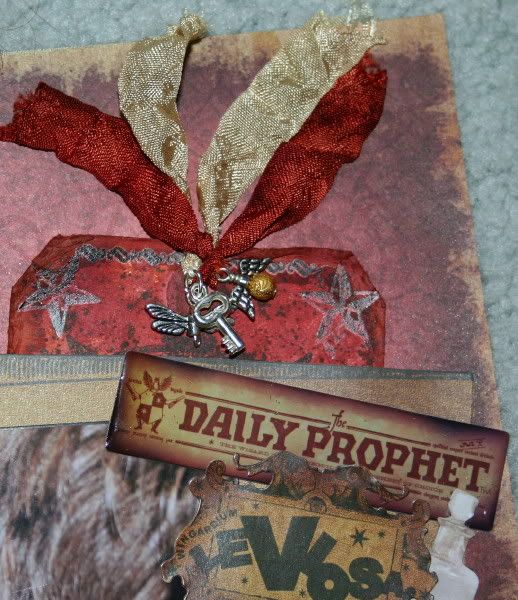 To finish off the layout – more stickers – this time some of the alphas. Love the whole lightning bolt font thing – very nice touch. And yes – you are right, they are a pair of Harry Potter themed charms on that tag. A winged key and snitch to be exact (god I love ebay for all things eclectic and downright strange), helps obsessive nuts like me no end. I'll talk about the tag itself at the end of the newsletter – but it has all the journaling for this layout on it and was a labour of love in itself to make. (Oh my – the tag colours look really off in the photos – it is STILL raining up here in Brisbane and I had to take these in very poor light – in real life the colours are a much better match than they appear to be here.)
Being a little distracted with some paid work this last month, I totally forgot about the sketch for December and had to 'donate' one of my Harry layouts to it. This left me a little short for subject choice, as '3 boys who love Harry = 3 newsletter layouts'. Discussing this with the boys, we realised poor Madame had never seen a Harry movie and was thus (in our opinion) denied one of the great joys in life. Remedying this not only gave me subject matter for my next layout – but also brought about one of the funniest 'Madame quotes' I've heard in a while.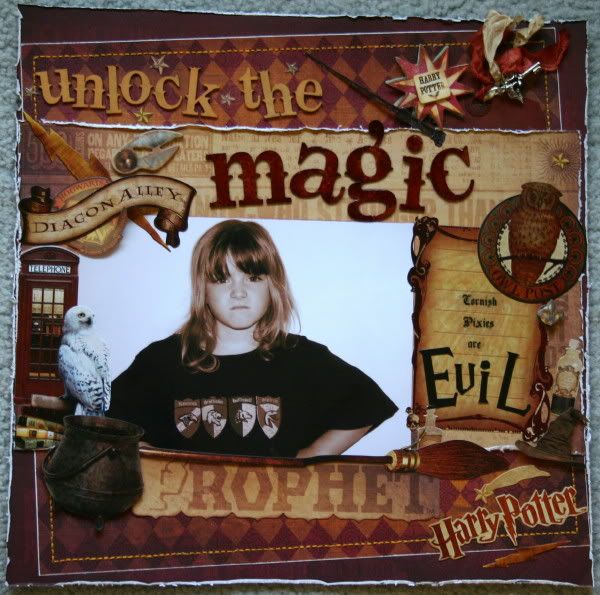 Unlock the Magic attempts to use some of the background patterns in the range. The layout base is a sheet of Hogwarts Crest (reverse) with a piece of the reverse of the Harry Potter Banner over the top of it. This was stitched to the layout base with a contrasting thread. I was so happy with how this looked it was hard to put anything over it and hide the stitching. The ochre and maroon colours in this range are very nice together and a lot of the embellishments have these tones. I finally decided to use a section of the Daily Prophet paper – which is again, one of those papers you really don't want to cover. Love the title of the main story on it.
Not so many stickers on this one – but I did try to use some that weren't on the previous layout. I've used pop-dots to give one of the flat sticker banners some dimension -layering really is the way to go to get stickers to work I think. With some of the longer stickers (eg the brooms) layering allows you to use them and yet not take up too much space across the layout.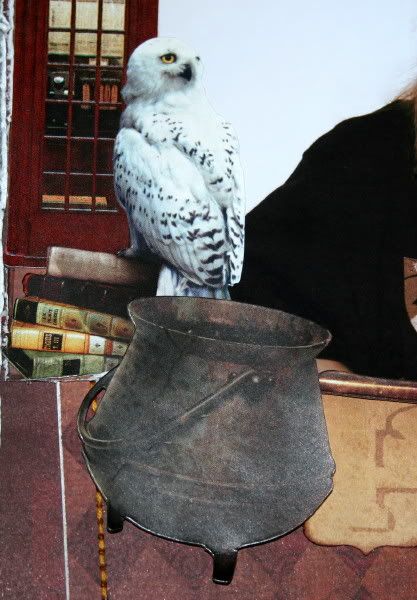 Loving the cauldron too – though it did cause Madame to further comment that such things (the hat and broomstick included) were the province of witches and not schoolchildren (even those who attend wizarding school).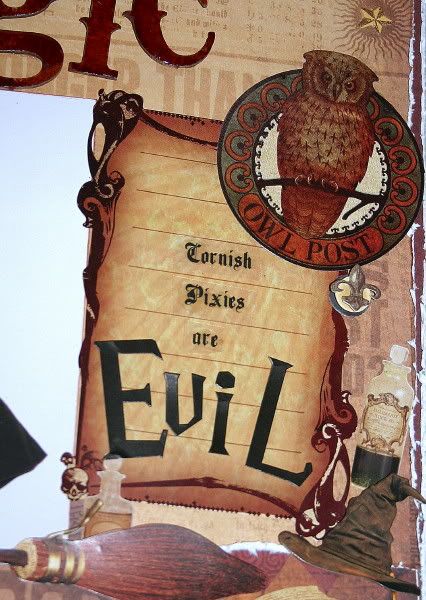 Sorry – I just HAD to use her quote on the layout. I put the journaling on a tag again, as there was a lot I wanted to say about her first Harry experience. That left my sticker journaling spot a little bare – but her quote filled it in nicely. Lol – love the face on her in the photo too – she is soooo not impressed with the 'Piskies'. The owl is a sticker – a repetition of a pattern element on one of the papers.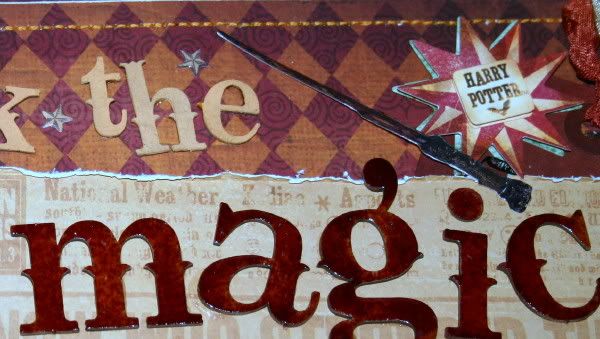 Back to my favourite Scrapware Antique Lowercase (Mary has the uppercase ones on sale at the moment) chipboard alphas for the title. The font fits in so well with the Harry theme don't you think? The ochre ones are simply inked with a chalk ink, but "magic" was dual inked with Tim Holtz/Ranger Aged Mahogany and Scattered Straw Distress Ink. This was then given a coat of Dimensional Magic (oos but we do have Ranger Glossy Accents - which is also on sale) to give it that lovely glossy look. You can only see the edge of the tag here – I'll talk more about it later.
And now for the layout that was 'lent' to the sketch for this month. Don't call me Harry Potter has about as few stickers as a layout from this range can get. Other than the title and a couple of decorative elements – the main use of a sticker was on DS3's forehead. Still shaking my head that he let me talk him into it AND that he thought he got to keep it at the end of the photo-shoot.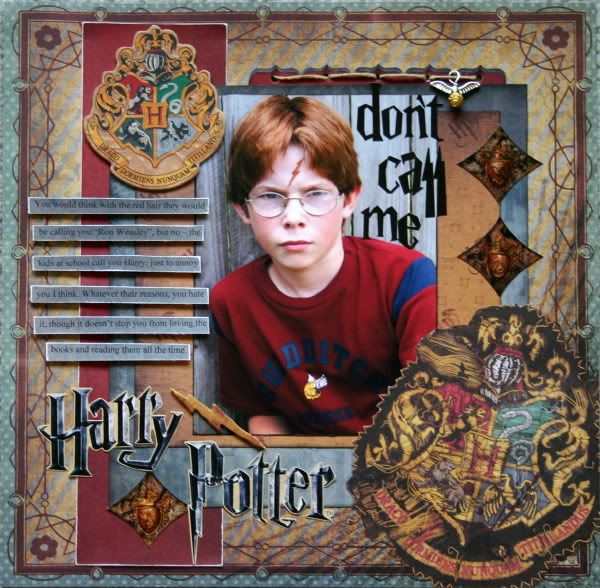 Love the grey colour to this layout –it works well so with the ochre and maroon. It was also an obvious choice of paper to go with DS3's clothes – hand-me-downs from his older brothers from when they were in full flush Pottermania. The only real paper with a significant pattern to it is the base paper – Hogwarts Crest. Love the frame pattern on it – very pretty – and this would be a good choice of paper for a girl's layout for that reason.
The grey pattern comes from the reverse side of the Harry Collage paper and consists of varying shades of grey with the words 'Harry Potter' stamped all over it. The ochre paper above that is the reverse of the Quidditch paper – another great background patterned paper, this time with just the HP initials stamped on it. Both these papers are obvious choices to combine with the pattern on the Hogwarts Crest paper. I've used a strip of the reverse side of the Daily Prophet paper to add a little more warmth to the page – the grey and ochre can look a little bland without it.
I've let the papers do most of the work this time – the corner crest pattern is the main feature of the pattern and all I did was cut into part of the crest and tuck the photo and other papers under that, leaving it to fill that space.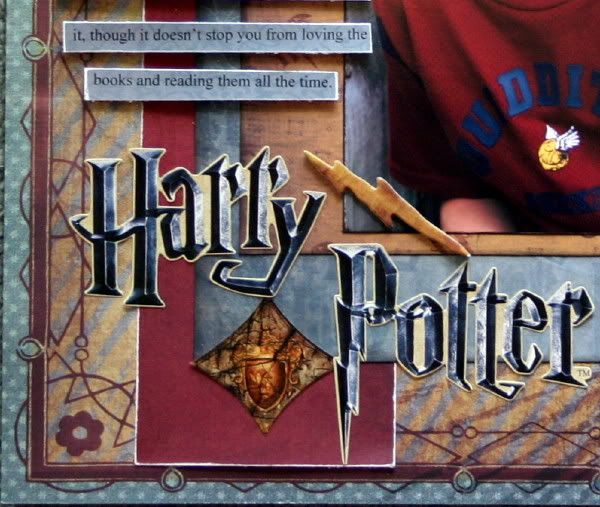 Strip journaling for a change, up on pop-dots for dimension and a split title. The 'Harry Potter' section comes from the 12 x 12 sticker sheet set, whilst the rest are the sticker alphas. This is my favourite of the sticker titles – there are other sizes and colours – but this one is the best!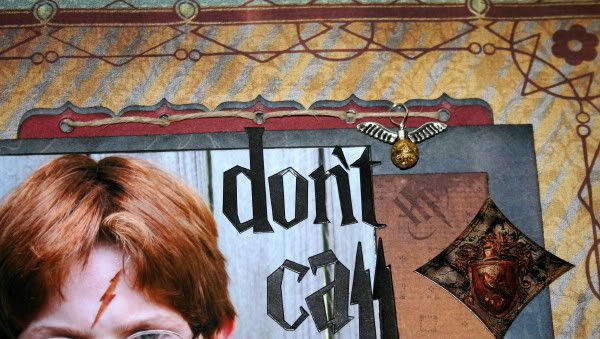 Whoo hoo – got to use a chipboard crest this time. It fills the empty corner of the layout quite nicely. A small punched border feature gives a little interest to the top edge of the photo and allows me to use another of the Harry Potter charms I found. This one matches his shirt logo nicely and keeps the order freak in me happy.
All up it is a simple layout – but the layering gives it the illusion of complexity.
This week's technique for the forum features the two layout tags. I've been playing with my distress inks and doing a little stamping and really wanted to use a recent stamp purchase – the owl scroll – with this range. How I put this tag together is in the forum (or will be shortly) and I promise you that you will have great fun if you want to do something similar for yourself. The Hogwarts title, stars and lightning bolt are rubons from the range (oos) – the rest are stamps from my own stash. Just a note on the muslin ribbon – the red-brown one I coloured myself and how I did that (it's a mix of inks) is also in the forum in the same technique post.
This is the other tag – same inks, just applied differently. Making this tag is also in the forum post. More rubons and some stickers finish this one off – the metal corners are from my own stash. I have to admit that making the tags took way more time than I though they would – but then time always flies when you are having fun I guess.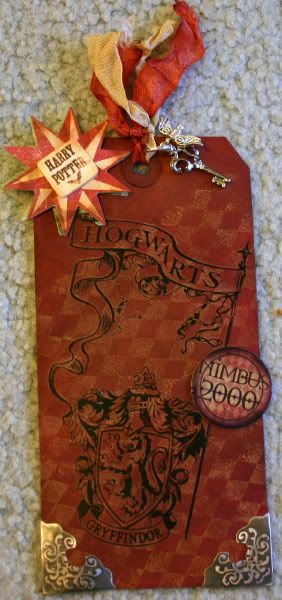 The final layout for the newsletter is about as magic as the range – it disappeared and began turning itself into a mini album. Sigh. DS1 was the first of the boys to take up with Harry. In a way they have grown up together. DS1 has a stash of Harry Potter collectibles (yes – it is all my fault – but he did love them all so) that we thought it would be nice to document for him. I also thought it would be a FABULOUS way to use up all those die cut frames I still had – but there was no chance of getting all of them on a 12 x 12 - even using the smallest photo size.
I have not had time to get the entire album done – but the first 3 pages are here for a peek at. A couple of them (the last 2) will have tags inserted behind the photos/designs, but I have not had a chance to get these done yet. As soon as I get it finished (it's my Xmas down time project, so I hope to have it done in early January for DS1's 19th birthday) I will pop it up in the forum with full details on what I did.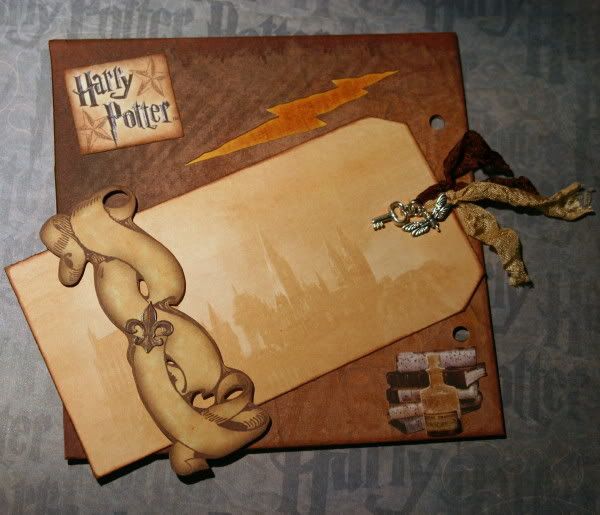 So – Creative Imaginations' Harry Potter – summed up in 2 words - "get stickered" ladies!! Rediscover some fun in your scrapping. Sometimes it really is as easy as slapping on a sticker or two for a fantastic layout.
I'd like to take the chance to wish you all a Merry Christmas and a Happy and Safe New Year. Things will be a little quiet here on the forum for a bit, as most people focus on their own families, but make sure you check back in the New Year to see what the Design Team is up to. I'll be back with some lovely girly layouts using the very pretty Kaisercraft English Rose. There will also be another Blind Scrap in January as well. So see you back in the forum in 2011.
Wow Ngaire! You really have worked your magic with this collection. Thank you so much for sharing these amazing projects with us.
Although we ordered extra stocks of the Harry Potter collection we have already sold out of a number of items. We will be ordering re-stocks early in the new year when the supplier is back from holidays. Please email me mary@idealpapercraft.com.au if you have special requests to be included in this order. This will help us in working out stock for re-orders and requests that are emailed to me will be fulfilled before any of the remaining stock is entered into the store. Please have all requests emailed to me by January 4th 2011.
I wish you all a very Safe and Merry Christmas and also a Happy and Prosperous 2011.
Best regards,
Mary
Ideal Papercraft Believe in the Beauty of Your Dreams
www.idealpapercraft.com.au

Similar topics
---
Permissions in this forum:
You
cannot
reply to topics in this forum