Would you like to sponsor a challenge at Top 50 and have your store link shown here? If so, please contact admin! :)
Follow us on Facebook
Scrapbooking Top 50 Australia
Promote Your Page Too
This week's challenge to get your mojo flowing is to make your own embellishment for a layout. It could be something as simple as a journalling spot, a handmade flower or something more elaborate. This is a great way to use up some left-overs, so dig into that scraps box and get creative!
There are HEAPS of wonderful sites and blogs out there with ideas for you to use, so if you know of any good ones, please share them with everyone! Don't forget to also post pics of your creations so we can see what you've been up to!

(And remember, we run embellishment swaps here every month, so you might like to join in on one of those!)

_________________
Cheers, Sue

You can find me blogging HERE
Here are some places you can get started:

Amazing paper rose tutorial: http://meholder.blogspot.com/2009/03/paper-flower-tutorial.html

The Kaisercraft blog often has great tips and techniques that you can use to make your own embellishments: http://www.kaisercraft.net/blog/

Lollipop flower tutorial: http://www.scrap-a-little.com/2009/05/lollipop-flower-tutorial.html

Making paper lace: http://paperlaces.com/paper-lace-with-fiskars-punches/

The Bo Bunny blog is another one that is full of ideas: http://bobunny.blogspot.com/

_________________
Cheers, Sue

You can find me blogging HERE
Thanks for the links Sue!!
Off to check them out!!
_________________
Cheers, Vicki
Owner of Scrapbooking Top 50 Aus
Blogging at:
Scrapbooking Top 50 Aus
and sometimes blogging at:
Scrappin Vickstar
Find my handmade goodies here:
Burdy's Handmade Embellies!
Definately the embellishment swaps are a great source of inspiration, as they force to to make your own!
Also, I find it much easier doing embellishments in bulk - it's a great way to use up your scraps too!
Here's what I finished today for the March embellishment swap;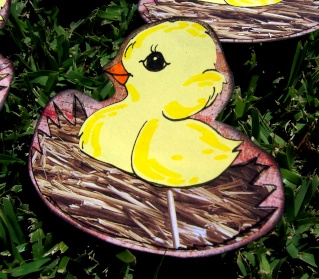 All using scraps! It's great using up scraps for something special!
---
Permissions in this forum:
You
cannot
reply to topics in this forum